I recently returned from a very enjoyable and successful visit to Quebec for the first two Canada Cup races of the season, where I defended my wins from last year at Mont-Tremblant and Baie-St-Paul, and am now up two victories in the Canada Cup series standings. But I like Quebec for more than its lucky dirt. It's a lovely province with green hills, quaint historic villages, and excellent cafés. It is a step between North America and Europe, and has very much its own culture. The people are also wonderful and I have made many good friends during my racing and travels in la belle province, including my former Xprezo Cycles buddies and my awesome hosts this season and last, Cindy, Serge, J.C., and Ti-lou in Val-David!
Cindy and Serge picked me up from the airport and drove me home to their chalet on the mountain, which reminds me so much of my home in B.C. It's located in the Laurentians, which is a beautiful hilly region and in springtime, it's incredibly lush. They gave me the run of their house and I immediately felt at home, creating a great environment for success. Since Serge is a professional cycling coach and Cindy is an elite racer like me, our lifestyles, schedules, and interests jibe really well. Plus, they are ultra-generous and fun people who love coffee.
Besides the racing, one of the highlights of my trip was going riding to St-Adele with Cindy, which is a ski hill about a 20-minute drive from her house. The trails were super fun, twisty, rooty, and a little greasy from the spring rainfalls. It was some of the best riding I've done in Quebec and the perfect way to practice my skills before heading to Baie-St-Paul for Canada Cup #2, which ended up being slick and rooty.
Hanging out with my friends from Team CVM 2 Vals in Val-David was the best example of how bike racing has positively affected my life. Through cycling, I have had the privilege of experiencing Canada and much of the world in ways I probably never would have otherwise. And most importantly, this great sport has allowed me to meet awesome people and make wonderful friends. Mountain biking is such a sport of solidarity. Everyone helps everyone else, regardless of team or category. The fact that Cindy and I are competitors on the race course doesn't mean anything once the race is over.
And back in B.C…
I returned home to B.C. last Monday night and was glad it was a recovery week, not just because I was exhausted from the racing and travel, but also because of the wet and cold weather. Ryan and I went for a fun yet sopping mountain bike ride on Wednesday evening on some local trails and it was a quick reminder of how different the riding on the West Coast is from the trails in Quebec! It took a little bit to get back into the "gnar" zone, but it's all good.
On Saturday morning, Ryan and I enjoyed the authentic Belgian waffle special and our favourite cappuccinos at Caffe Divano in Port Moody, then hopped on a ferry at Horseshoe Bay, which dropped us off in Langdale on the Sunshine Coast. It was a bit of a last-minute trip to celebrate what I like to call our "Date-iversary" (three years already)! We were flying by the seats of our pants and hadn't made any accommodation plans, so we headed to the Visitor Info Centre in downtown Gibsons. The friendly staffer helped us out with recommendations and use of the computer and I finally found a vacancy for a cottage in Sechelt. After booking it, Ryan and I headed to Wheatberries Bakery Café for some lunch and another cappuccino each. Once we were satisfied, we parked on the Roberts Creek FSR and started to ride the super-fun trails of Sunshine Coaster marathon loop. We made a large dent in the course before we became slightly lost. We did, however, find a sweet and fresh trail, so we didn't feel too bad about missing a chunk of the course.
After our ride, we drove towards Sechelt, where we found our tiny cottage at Catch of the Day Cottages. It was very cozy and right by the ocean. We took advantage of the gorgeous setting, despite the clouds. For dinner, we got take-out calzones and salads at Pier 17 Market in Davis Bay and walked across the street to the beach, where we sat on the pebbles in the shelter of some boulders and took in the steel-grey sky, the birds, and the ships gliding in the distance. We couldn't skip dessert, of course, so we went back to Pier 17 for some delicious homemade gelato. I had Brazilian Bikini (chocolate gelato with espresso and coconut flakes, oh yeah!), while Ryan had mint chocolate chip (surprise, surprise). Then we went back to our cottage and watched a movie.
We slept in on Sunday, but before heading off, we took one last walk down to the beach. The sky had cleared overnight and the sun shone bright and warm. By the time we got to Roberts Creek, it was brunchtime. We sat at a table on the patio of the Gumboot Garden Café (highly recommended!!!) and enjoyed cappuccinos with our meals. I had the omelette special – blue cheese and bacon with homemade toast and jam and potatoes. Ryan had pancakes with apple and a cranberry coulis and some delicious local turkey sausages. To top it all off, we ordered another round of Americanos. Caffeine is sooo good!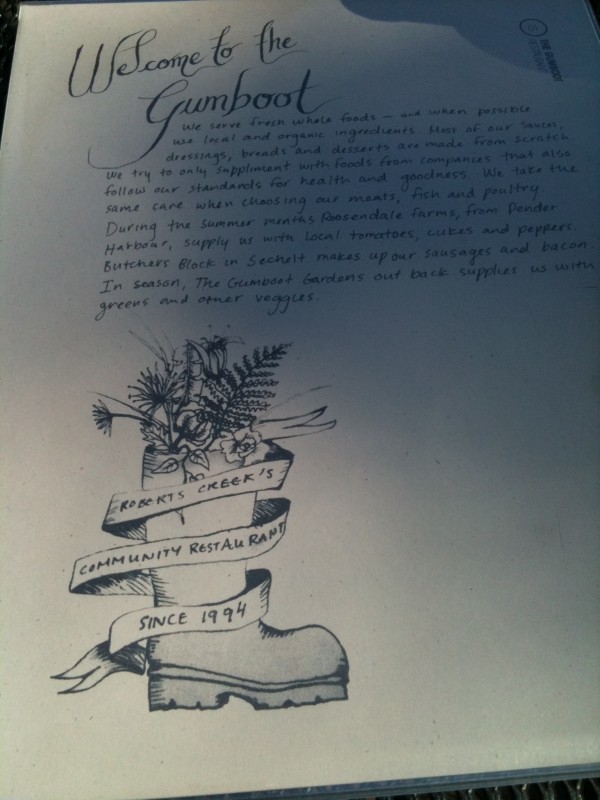 We started our ride again under the powerlines off of the Forest Service Road, but this time we headed straight up the road for about 6km (I was supposed to do a road ride… close enough, right Keith?). We popped in at the Highway 103 trailhead and started the techy singletrack climb, which involved a lot of skinny bridges. I hedged at many of them, obviously still not over the wooden bridge incident that led to my knee injury this past winter. Funny, because I really didn't think I let the crash, which was a total fluke, get to me, but it really did and I had to force myself to go back and ride a bunch of bridges. By the end of the ride, I was way more confident and comfortable, so it was an excellent day of training and confidence building!
Highway 103 took us to the fantastic Highway 102 descent (a rider favourite in the BC Bike Race) into the Sprockids Bike Park in Gibsons via Sidewinder, another awesome trail. After a quick Sharkies break, we turned around and doubled back the way we had come, because the descent also made an excellent climb. The grade was perfect, you could still carry some speed and flow up it. The only other way back would have been via the actual paved Highway and I much preferred the singletrack Highway we chose!
Instead of taking the exact same route, we veered left on Red Baron, which Ryan had fond memories of from a ride he did years ago with our friend Alan. The trail had changed, however. Lack of maintenance forced us to constantly stop and lift our bikes over fallen trees. We found the exit onto the FSR and then quickly ducked into the next singletrack on the left, called Charlie Brown. That was a grin-inducing trail too. After that, we railed down Pumpkin Patch and Black Tower back to the car. Well, there was another uneventful detour in there, but it's not worth mentioning other than that it involved some road, which contributed to myscheduled "road ride"….
Once we had changed and loaded up, we headed back to the ferry in Langdale where we joined the weekend exodus line-up. We grabbed dinner at the Langdale Wheatberries location (tasty burritos, a Turtle bar, an almond apple tart, and a couple of capps) before boarding the ship. Before we knew it, we were home, but it had been a fantastic and memorable last-minute weekend away. The Sunshine Coast feels like another world, but it's only a 40-minute ferry ride from Vancouver. The trails have their own flavor as well. They are so soft and rich with loam, the earth feels springy beneath your tires. The forest is still and peaceful, pierced only by the sound of various songbirds. It's also true temperate rainforest – humid and lush with tonnes of underbrush, ferns, and salal growing in the shade of towering cedars. Ah, so relaxing… I can't wait to go back!